Creating Beyonce level confidence 🔥
Updated: Jul 8, 2021
𝐈𝐌𝐏𝐎𝐒𝐓𝐄𝐑 𝐒𝐘𝐍𝐃𝐑𝐎𝐌𝐄. 𝐈𝐓'𝐒 𝐀 𝐓𝐇𝐈𝐍𝐆.
You know those days where you:
🚫 Doubt your abilities & talents⁠
🚫 Feel like a fraud⁠
🚫 Feel undeserving of your achievements⁠
⁠
You know the ones i'm talking about. You had all of these amazing ideas the day before, but you've gotten into your own head today and feel like nothing is working, you're fed up and think you may as well stop wasting your time.
⁠
We ALL experience those days and anyone that says they don't, is a liar... (said in the nicest way possible obvs!)
BUT. Just when you think everything has gone tits up & you're a failure. GUESS WHAT? It's just YOU in your own head.⁠ ⁠In fact, the tits are not up, they are perfectly fine and where they should be.
⁠
You need to get out of your own way.⁠ Which granted... some days is much easier said than done, BUT you still need to get out of your own way. Move.
⁠
Thoughts can be changed and it's actually much easier when you think. In fact, you already have the tools you need, it's just knowing about them and remembering you have them when you most need them. So what's in your tool kit. Let's discuss.
When you get those thoughts creep in, ask yourself:⁠
⁠
💎 What is the opposite of this thought?⁠
⁠
💎 What would the confident, empowered version of me say to this?⁠
⁠
Because that IS you. It's just unlocking that part of you.
YOU can change your thoughts. And when you do, you're well on your way to that version of you. The you that would give Beyonce a run for her money when it comes to confidence. (Because let's face it, she is also a human and there's NO REASON, why you can't also have that confidence.)
Let me say that again.
There is no reason you can't have Beyonce levels of confidence.
It's just CREATING IT.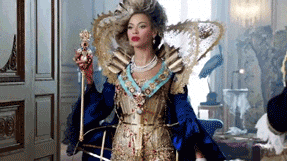 When the doubt creeps in, something else you can do is:
💎 Imagine you've achieved your goal/ desire already. You know that it's possible, because you've done it. Close your eyes for a minute and imagine it. Feel the feelings.
What advice would you give to your past self? Aka the current you. The you who is feeling like a fraud right now.
What would future, confident, successful you say?
Would you say something along the lines of
You've got this.
Look, you've already done it. You can do it again.
Because let's be real. Give me one good LEGITIMATE reason why you can't do it?
❌ Not enough money isn't a legit excuse, because that's something you can work on. It may take a bit of time, but even so. Not a LEGIT excuse.
❌ Because I've failed before. Sorry, not a legit excuse. So what if you've failed before? Get up and try again. I can guarantee that every single successful person has failed at something somewhere along the line. But the reason they've successful is because they kept going. They learned from it and moved on.
So can you.
There is no such thing as 'problems'. Problems aren't tangible. They aren't something which we can see or touch, they are something we create them in our mind. Think about that.
Yes there are some horrible times, but do you know I mean by we create problems in our mind. They don't exist as a 'thing'.
Whatever the excuse you're giving yourself, ask yourself is this really true and why do I think this? And when you actually have a think about it, every single time you're like 'hmm actually, no it's not true'.
The days when you feel like an imposter, as I said, we ALL have those days and it's totally okay to feel your feelings. It's good! Rather than dulling them with other methods (drinking, shopping etc). So feel your feelings, but ask yourself those questions...
What is the opposite of this thought?⁠

What would the confident, empowered version of me say to this?⁠

What would future, confident me say about this?

Is is really that accurate or just a story i'm telling myself?
Step into your power & know you are already strong & courageous.
Tell yourself this. Stand in front of the mirror and say I AM STRONG AND COURAGEOUS. The more times you repeat this affirmation, the more it's going to sink in and you believe it. Because you should believe it.
There's enough success to go around and there's no reason why you can be one of those successful people.
It doesn't have to be hard. It actually gets to be easy. By doing the things you enjoy. Not the things you're told you SHOULD do.
You SHOULD do this.
You SHOULD do it this way.
No that won't work.
Everyone else is doing it this way.
But guess what, YOU are not everyone. And you get to do it YOUR way. The way that feels good for you.
I used to get told a lot 'you need to stay in your job because it's stable' or 'you can't leave until xyz' or 'you need to it this way'.
But actually, I didn't NEED to do any of those things. I can do things my way. Because it's my life and I get to chose.
So if anyone is giving you the shoulds or the need to's, remember... you get to choose.
And if that means doing something your way, AMAZING.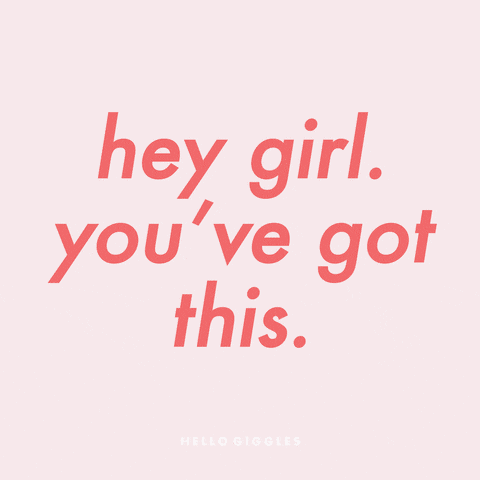 If it means quitting your job and starting that biz, GOOD FOR YOU.
If it means becoming a new version of you, the person you WANT to be, GO GET IT GIRL! That's awesome. Again, you get to choose who you're going to be. You get to choose how you're going to show up. And it gets to be easy,
Be you. Be the person you would like to see. What feels good or you.
When you're having those crappy days, just remember:
️‍🔥 Things can be easy
️️‍🔥 You're allowed to feel your feelings
️‍🔥 There is enough success, confidence and wealth to go around
️‍🔥 You get to choose
️‍🔥 YOU CAN DO THIS
️‍🔥 The tit's are not up. They're exactly where they should be.
⁠
Whatever the challenge today or this week is, just know you've got this. 👊
Love Georgia xxx
P.s. I'm SO excited to say I have 2 private coaching spots available soon. 👑
DM me on Instagram to save yours. They'll go fast. ️‍🔥
#beinthenow #womenliftingwomen #liveinthepresent #healthythoughts #empowermentspeaker #wellandgood #womenhelpingwomenwin #womenunited #manifestationbabes #womenupliftingwomen #holistichealthpractitioner #girltribegang #womenwhoempower #findyourtribe #inspiringwomen #emotionalwellness #yachtcrew #motivationalcoach #coachingwomen #lifecoachforwomen #selflovejourney #healthymind #confidence #confidencecoach #beyonceconfidence